Become a World Class ERP Consultant in 40 days
The ERP Implementation Consultant Bootcamp is a mentorship program aimed at providing you with the core skills required to function as an ERP Consultant within 40 days or less.
Use coupon code HALF to receive a special 50% discount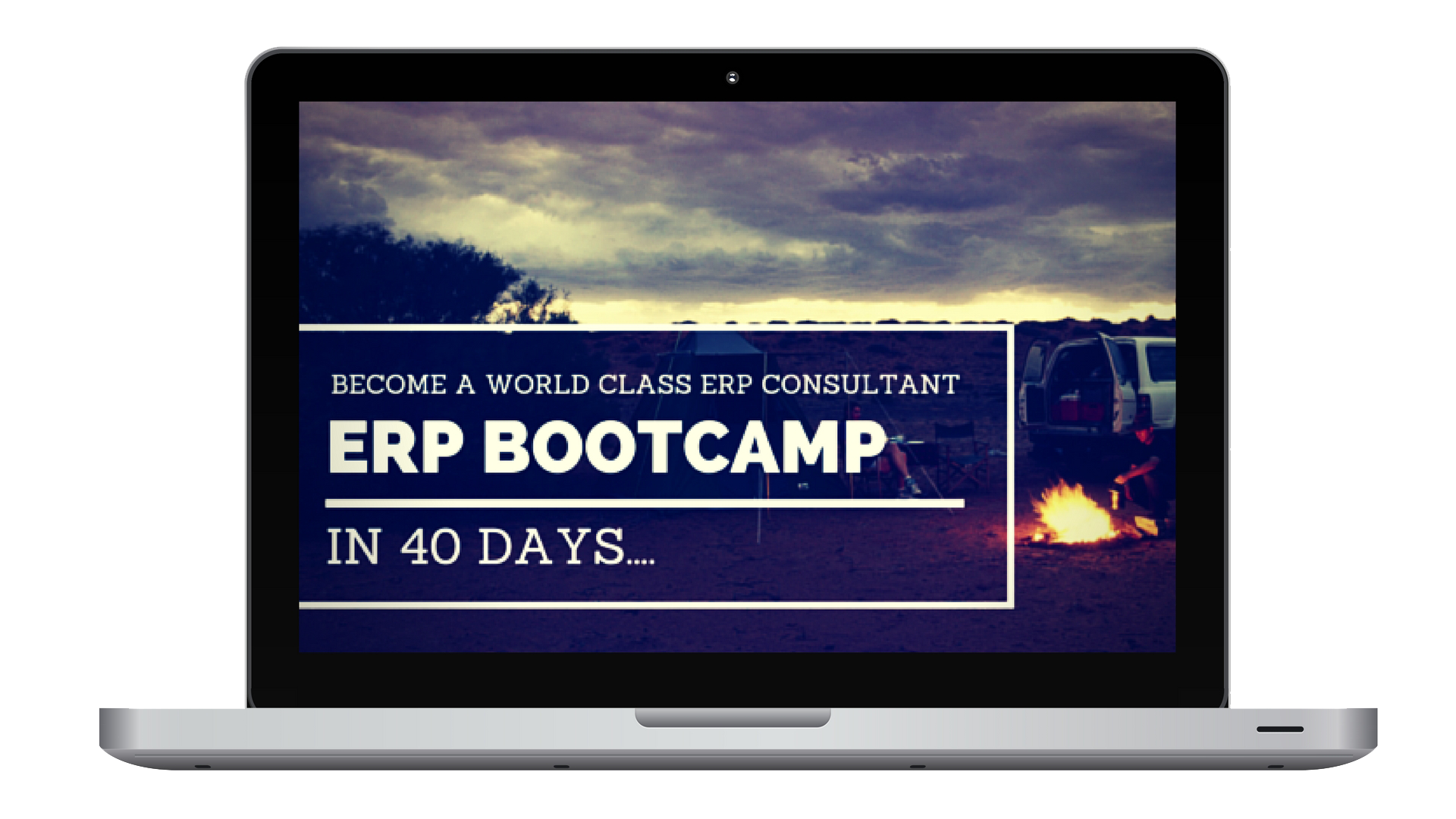 Be mentored by Yemi Onigbode, a qualified Chartered Certified Accountant (FCCA) with more than 15 years experience, as an Oracle ERP Consultant.
This is not just a Training Course. This is a Mentorship program. The live sessions were awesome!!! - Thanks Yemi I got the job!
The YouTube videos were great! - But the course is out of this world. We practically used the course for our upgrade! - We just saved thousands of Dollars.
Practical and real life immersion strategy and excellent course material and delivery
Watching the videos and the practical instructions takes one into the real life environment, very easy to follow and creates confidence that one can deliver in a live environment.
The course gave us a great insight as to how to implement EBS for our project team staff
The intention was to move from Technical to Functional consultant. I now find that I have become a full Hybrid Oracle Financials Consultant
Informative, concise and well-structured training materials, focusing on the end to end project life cycle.
Use coupon code HALF to receive a 50% discount
Cloud based access to 150+ High Definition Videos
Over 100 hours of training content
Access to thousands of training resources – worth over $10K
Opportunity to gain employment on live projects
Access to real life example Implementation templates
Access to real life example projects and documentations
Access to mentorship sessions worth over $1,000
Practical steps on how to get a job as an ERP Consultant
On the job mentorship
Lifetime access to training videos
24/7 Access to the content
Free updates to the course

Become a world class ERP Consultant

Use your skills to Implement Oracle E-Business Suite R12.2
Increase your earning potential, and get the career promotion you deserve
The E-Business Suite R12 Financials Implementation Consultant Bootcamp is aimed at providing you with the core skills to function as an Oracle EBS Functional / Technical Implementation Financial Consultant.
The course will cover the setup and use of the core financial modules General Ledger (GL), Accounts Payables (AP), Accounts Receivables (AR) and Oracle Cash Management (CM). The course will also cover core setup requirements from Human Resources (HR/HCM), Inventory (INV), Purchasing (PO), E-Business Tax (EBT) and Sub-Ledger Accounting (SLA). You will review the standard core business processes, technical skills required to interrogate the data will be covered and some technical setup skills in System Administration will also be covered.
You will gain the skills and knowledge required in implementing the Oracle e-Business suite. You will also gain core consulting skills including functional, technical and client facing skills. You will also cover the practical steps required to get a job as an ERP Consultant
The course is scenario based mini-project with depth coverage of the core setups and use of the Financial modules.
Introduction
Course Overview
Install Environment
Discovery
Business Blueprint
Project Plan
Role of the Project Manager
Role of the Business Analyst
Introduction to Accounting
Definition
Organization and Financial Structure
Requirements Gathering
Map Business Requirements
Architecture Strategy
CRP Session I
Live Mentorship Review Session – 1
Design
Future State Process Flows
Gap Analysis
Solution Design
Live Mentorship Review Session – 2
Development
Application Setup (Core Financials Modules – GL, AP, AR, CM Inc HR, INV, PO, EBT, SLA)
Live Mentorship Review Session – 3 and 4
CRP Session II
Functional Design
Technical Design
Build CEMLI
Live Mentorship Review Session – 5
Debugging
Test Scripts
System Integration Test
User Acceptance Test
Live Mentorship Review Session – 6
Delivery
End User Training
Live Mentorship Review Session – 7
Deployment
Roles and Responsibilities
Data Conversion / Cutover
Live Mentorship Review Session – 8
Spaces Limted!
Join today and learn from one of the leading ERP consultants
Use the coupon code HALF for the 50% one time discount
Offer expires when the allocated Coupon finishes or in: